Finally 2021:- The year of shot in the arm!! Oh by the way HAPPY NEW YEAR peeps!! I hope this year brings immense positivity and happiness.
As glasses are raised and fireworks explode into the sky at the dawn of the new year, I want to thank you all for the phenomenal journey that we have shared so far. Let's start this new chapter of 2021 with new calming friyay five!! So calm on….
1) FAM- JAM:- Spending time with family tops our priority list this new year! When was the last time you planned a picnic with your family? Long time ago. Being from a Punjabi family, picnics are sort of big deal Needless to say, the Punjabi family can be an endless source of joy and at times an endless source of stress! ? You are supposed to pack rajma is the first round of discussion along with the different types of pickles…. These discussions have another level of importance!! But for sure they are fun… So this weekend plan a family picnic with loads of food items so that nothing falls short, games and please don't forget that corona is still present!!
My level of family picnic at sunder nursery!!
Fyi, half of the delhi is settled at sunder nursery so plan your outing accordingly…..
2) #MYELF CHALLENGE:- Elf on a Shelf challenge.
Here's how it works: Each celebrity (after all we are celebraties of our own life!!) picks the name of another celebrity whose name rhymes with their own. write your own version using the rhyming names and add the hashtag #MyElf.
Here goes mine:- me. on meh. on mehak!!
3) PLANT A(SAP) LING:-
Since it's the beginning of new year, let's all plant a sapling…. environment influences one's emotional well-being and that having greenery around helps us relax. A few months back we planted a strawberry plant in our garden and now that is actually bearing strawberries…. Now I am just waiting to have my smoothie yay!! I am going to plant more of these. So this new year plant a(sap)…..
4) WHAT TO EXPECT WHEN YOU DO NOT EXPECT:- Last to last week I participated in anart competition for my college to become a part of artistry society. Well at that time I did not thought of becoming a member but just somehow figured out what to draw. Later on when the actual day of competition arrived! made the drawing somehow finished it and submitted it. Well it was not extraordinary well rather not that beautiful. I was not sure of being selected and did not went on bragging about it. And guess what I was selected?? I still don't know HOW?? but what I learnt is not to expect and just move on!!
5) MY WEEKLY ART:- A hot cup of coffee/tea always works!!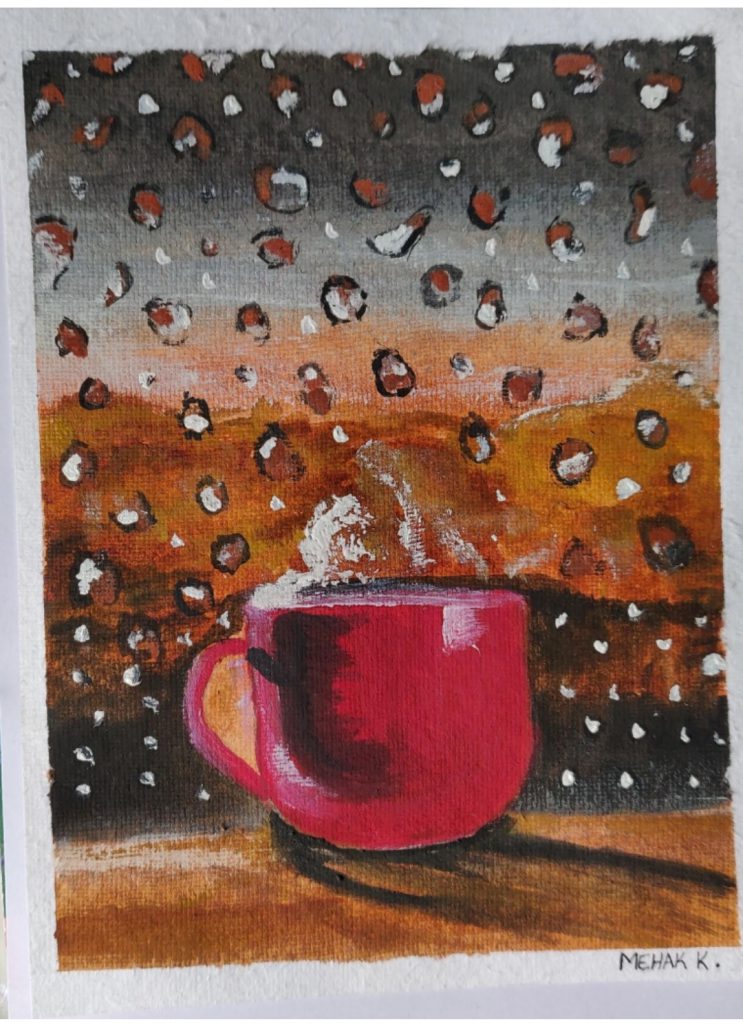 Meet you in my next till then this is Mehak signing off!!