Haylo, all you itching-for-calmness souls. Here I am going to introduce you to my 'calming Friyay five' so let's start this ride!!!
1) CHECK YOUR SURROUNDINGS:- Not now my Einstein minds but after this trick!! Look around yourself and see that you are not glued to the negatives in your surroundings. Catch up with any book or play your favourite music. This is important to detox your mind. I got this trick from the book I am reading "attitude is everything" by Jeff Keller.
2) TAKE THE JOY TEST:- bring on a pen and apaper I hope it's available when you need it the most!! Write down all the stress you went through during this week and now write all the happy moments that came your way. Give yourself a treat if your happy souls are more than your stress monsters.
Congratulations you passed the test!!!! Give this a try and I am sure you will feel better..
3) HAPPY PLACE- Everyone has a happy place what's your?? Mine is the one and only sitting in front of the window A/c with a glass of green tea well I am not currently using A/C but still it has a beautiful place in my heart.
Create your own happy place where you visit everyday and sit for a while it will definitely give you a calming soul. The flavour of green tea I am loving is lemon and honey do try!!
4) ART THREPY:- Art has my heart forever. I love to try new artistic things. My mantra for art is one week one drawing. It helps me concentrate more and relaxes my mind and soul!! The mandala I created this week!! Can you guess the name of it??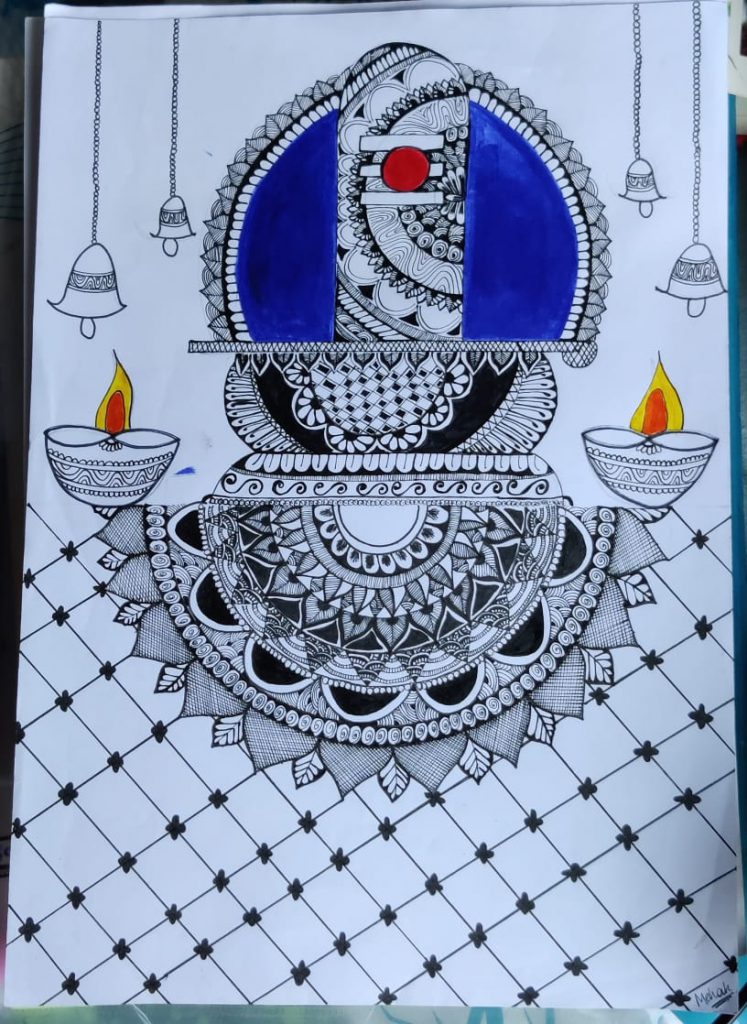 5) GRATITUDE GOALS:- Keeping a gratitude journal helps pull us away from the stress of the day. It also forces us to appreciate life as it comes and find the good in every day.
Find out more calming strategies every Friyay not Friday!!!